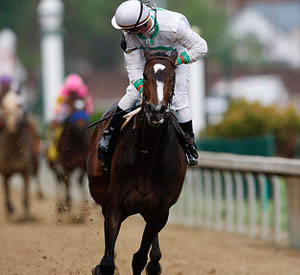 After sizzling six furlongs in 1.11.4 the speculation and suspense has grown to a nearly unbearable level. Fans of the reigning Horse of the Year want to know, where will Rachel Alexandra run next?
After running second by half a length to Zardana, Zenyatta's very own stablemate, in the New Orleans Ladies, and moving to Churchill Downs, Rachel has been working lights out. She first worked a brisk five furlongs in 1.00.2 on April 5th, then returned the next Monday to run run six furlongs in 1.12 flat. It seems that the Rachel of old is back and her fans want to see her back racing as soon as possible, to avenger her loss and silence her doubters.
The race most widely speculated for the filly's return is the La Troienne. In this spot the champion would sparing with last year's second best three year old filly of 2009, Careless Jewel, and none other than Zardana. If Rachel Alexandra does return at 100% there is no doubt in my mind that she will make easy work of both Careless Jewel and Zardana.
Another races that some have speculated Rachel Alexandra may start in is the Humana Distaff, at seven furlongs against last year's Champion Female Sprinter, Informed Decision, who also lost her 2010 debut. Seven furlongs is Informed Decision's best distance, it will take a fully loaded Rachel to beat the fleet footed grey at her own game, but the greats can run and run well at any distance.
Another race, I feel the connections of Rachel Alexandra could choose is the Churchill Distaff Turf Mile. Yes, it is on turf, and that is a surface that Rachel Alexandra has never touched, but I feel that the daughter of Medaglia D'Oro will flourish on turf, and may even find it more to her liking than dirt.
So, where will Rachel Alexandra race next, well we most likely will not find out until the day post positions are drawn, but a race on either Oaks or Derby day would seem the perfect spot for the forgotten super filly to make her presence felt once again. Lets hope Jess Jackson brings his Rachel back out of the shadows and that she comes back with a bang.